The hardest thing to learn in life is which bridge to cross and which to burn. (Russell)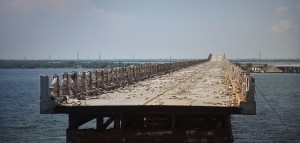 "Take this job and shove it" – can really hurt YOU
Every week I hear, "I know that candidate from a previous job.  I wouldn't touch him with a ten foot pole. He was not a team player."
Sometimes that comes from the way the person left a previous team.  Often the comment arises from an incident a decade or more before the comment.  Someone burned bridges as they left a job.  They were rude, bitter, destructive or insufferable.
Your boss may be getting ready to quit too.  He could be your new boss again at your next job, or in 10 years.  A current teammate may be on your future interview team. Leaving in a professional manner makes it possible to work together with members from your old team in the future.
Professionals leave relationships intact.  I have heard it put: "Be wise as a serpent, harmless as a dove."  Don't let people take advantage of you, and don't purposely hurt anyone.
We are back to the right way to quit.  Hand your boss a simple letter that states:
"I have appreciated the opportunity to work for XYZ company.  I am resigning with my last day of work on -date-."
Then keep your mouth shut.  Say only positive things.  Never brag about where you are going.  Cooperate with your boss and coworkers.  Avoid all questions about where you are going geographically or with which company.
Be wise as a serpent and harmless as a dove.
Something To Do Today
Have you got a network list?  People who you are actively cultivating to help your career should be in that network. How many of them would like to work for the same type of company you find ideal?  Count it up.  Really.  Count it up.  Doesn't it make sense to have them as future allies?
————————–
Tomorrow:     A successful email
Later:              The guy who invented running died
I make the milk every morning, my wife will keep me
Propagating blueberries guerilla style
Great ideas are a dime a dozen